The Rackman Center is proud to present our new project "A Woman By Your Side". This is a unique project, which enhances the Center's ability to provide emotional support as well as legal aid. In this project, specially trained volunteers accompany women who are in the process of separation from a relationship as a woman by their side through all the difficulties and emotional distress they may experience during the divorce process.
If you know a woman in Israel who is going through a possible divorce or separation, please let her know that we are here for them and can provide:
1. A trained volunteer who will be 'by your side' and there for you one to one
2. Participation in a divorce support group (nominal participation cost).
3. One on one counselling, free of charge, in cooperation with the School of Social Work at Bar-Ilan University
Please email project coordinator, Gilit Inbar-Kimchi: gilit.inbar-kimchi@biu.ac.il for more information, or leave a message at +972 3-5318895
To watch the video click here!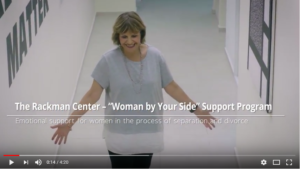 The video produced by: Boaz Rabinovitch and Noam Oz Seter.
Many thanks to the participants in the video, among them our dedicated volunteers: Orna Nahmani Arazi, Hanna Kramer, Dganit Falk and Amalia Brand