On March 19th,The Rackman Center was thrilled to attend a meeting at El Halev in Jerusalem to meet both members of the Women's Amuta Initiative along with representatives from the Greater Miami Jewish Federation's Israel and Overseas Allocation Committee.
The aim of the meeting was to provide an understanding of the impact of the programs they help support, as well as learn more about critical issues facing women in Israel today, and each women's organisation presented and then led to interesting group discussions. It was great to meet everyone and feel empowered that we are all making change and progress for women together.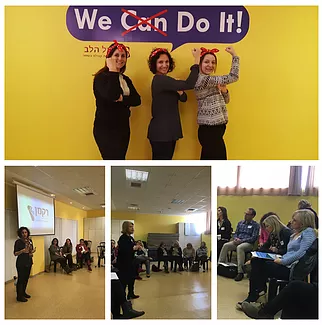 We are so grateful for our wonderful partnership with them and we look forward to working together with them in the coming year.
Image: Gilit speaking about The Rackman Center, Rena Genn introducing the Women's Amuta Initiative, and images of the group.