The Appeal of Dr Oded Gaz – Gett Refuser – against the courts order of shaming him
On Tuesday, 13 September 2016, seven Supreme Court Justices held a hearing to review the appeal of gett refuser Dr. Oded Gaz against the rabbinical courts, which recommended the public shaming of Dr. Oded for his Gett refusal. Rackman Center lawyers, Adv Shai Zilberberg and Adv Keren Horowitz represented our client, who has been waiting to receive her Gett for over 4 years. The discussion was combined with an additional case, and, given the importance of the issue, a representative of the Attorney General was also present.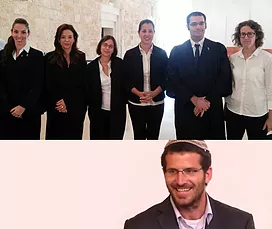 The director of the rabbinical courts Rabbi Shimon Yacovi said: "We hope that the Supreme Court of Justice will support the rabbinical courts in the uncompromising struggle against those refusing to divorce. The use of raising broad public awareness
through 'the repressions of Rabbeinu Tam' (also known as 'shaming') is an important and critical tool; unique tools are the only option to rescue a woman from that status– among other things,if the gett refuser escaped from Israeli borders and it is not possible to put him in jail, but this can also occur if the gett refuser remains in Israel, as imprisonment may not be a feasible option or it is not a sufficient option." This echoes what Prof Ruth Halperin-Kaddari said when the courts first ordered the 'shaming' process – that in this case (as with others) other options such as imprisonment were deemed as not being effective.
We are waiting for the verdict of this hearing.